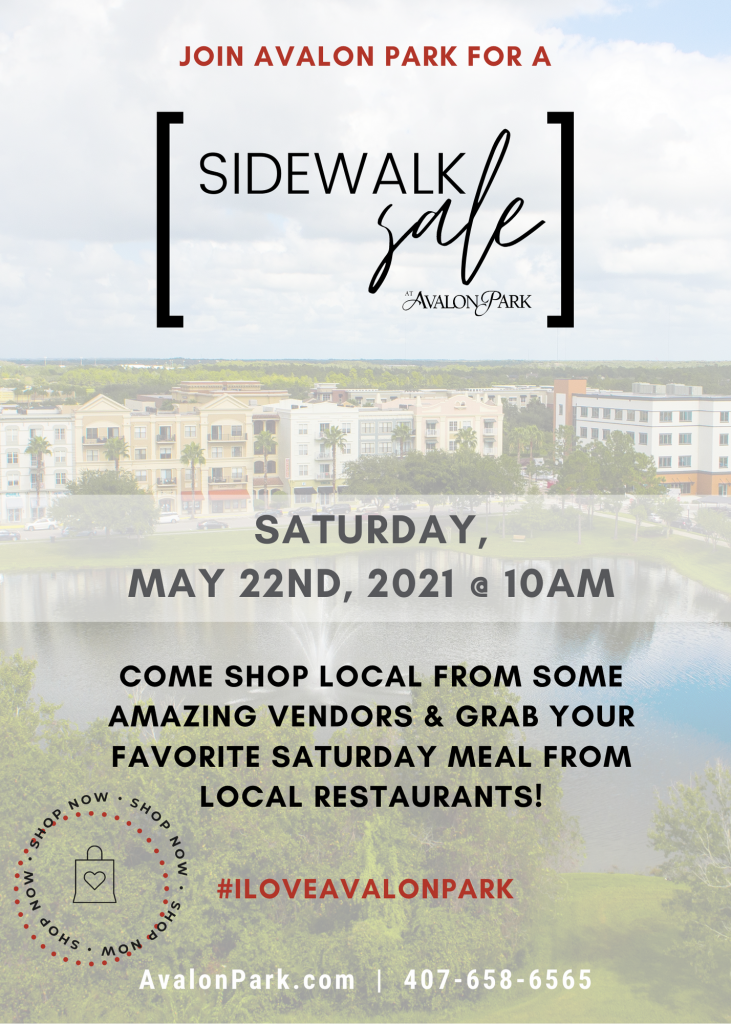 Local vendor booths featuring homemade items such as decorations, stained glass, woodworking, candles, and more! Vendors will be set up on Avalon Lake Drive and Avalon Park Blvd. East in front of the retail spaces on the sidewalk. NO FOOD TRUCKS will be approved for this event, as we are encouraging people to eat at the local restaurants. Baked goods and other homemade items will be allowed.
Sidewalk Sale Vendor Registration  Safety Guidelines Newsletter Sign Up
Social distancing and face masks will be required per Orange County and the CDC guidelines. Sanitizing stations will be located throughout the park.
Face masks, social distancing, and sanitizing will be required.
Our event permit with Orange County requires the following requirements to be adhered to by all attendees:
Each event attendee will be required to:
-Be willing to have your temperature checked upon arrival at the event.
-Handwashing stations will be available throughout the event for your use.
-Wear a mask in all areas unless you are eating or drinking.
-Remain socially distanced at a minimum of 6 feet from others, not in your party.
-If you are bringing your child, you will make sure that your child follows all of these sanitation and distancing protocols.
Additionally, you understand that by coming to Avalon Park's Spooktacular event, you are assuming the risk of exposure to the coronavirus (or other public health risks). This risk may increase if you travel by public transportation, cab, or ridesharing service.